Derigo Refrigeration / Supermarket Cases

De Rigo Refrigeration offers a complete range of commercial refrigeration equipment: vertical refrigeration display cabinets, serve-over counters, plug-in units, refrigeration systems and cold rooms, implemented by a high level of before and after sales services.

At the heart of De Rigo's business is the commitment to technical development and manufacturing strategy driven by best practice and investment in the latest technology. All essential processes are kept inside the Company's own factories to ensure a steady quality control Innovation and product quality are the milestones of De Rigo production which focuses with maximum care on environmental sustainability and energy saving.
De Rigo Refrigeration offers a range of products with a high level of specialization, the result of constant in-depth research studies, which have as primary objective an eco-friendly refrigeration system.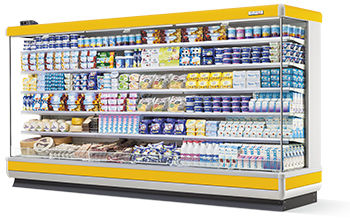 High automation, accurate verification of the materials and the constant control of the entire production cycle are in support of the quality of the product, a value that only companies of historical tradition in the field can boast of.
The introduction of innovative technologies and the particular attention to research and development , allow the Company to successfully respond to an ever more demanding market, presenting itself as an ideal partner able to guide the customer with targeted solutions.